Capitol Reef National Park Via Highway 24
Highway 24 takes us through the northern section of Capitol Reef National Park and eventually "merges back with civilization" at Interstate 70. Though just a short stretch of this scenic byway slices through the national park, there are many quick stops and longer detours to enjoy Southern Utah desert landscapes.
Twin Rocks
A quick stop that isn't by any means a must. As the name suggests, a pair of similar-looking mushroom-shaped rocks sit atop a mountain peak.
Chimney Rock
Another quick stop, this time at a more striking landmark. Erosion and winds have beautifully sculpted this mountain over the eons, leaving a lonely outcrop at its end that rises to the air like a chimney. Notice the sandstone cap at the top of the chimney. A short hiking trail can extend your visit, but most likely, you'll want to push ahead.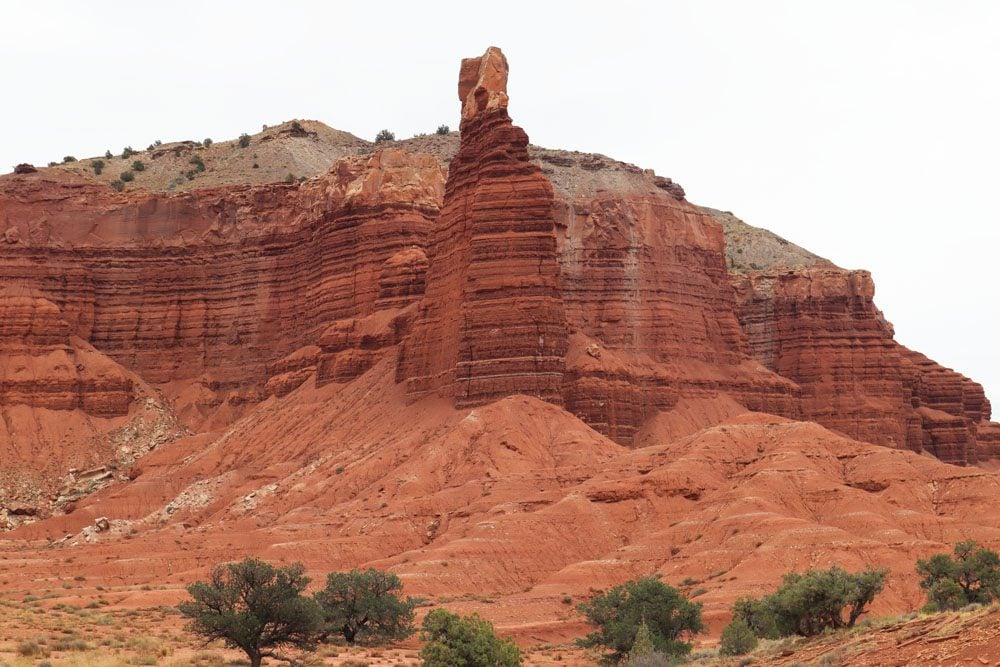 Panorama Point
Panorama Point is a worthwhile stop, offering a pretty vista of the area and cars heading to or from Goosenecks Overlook.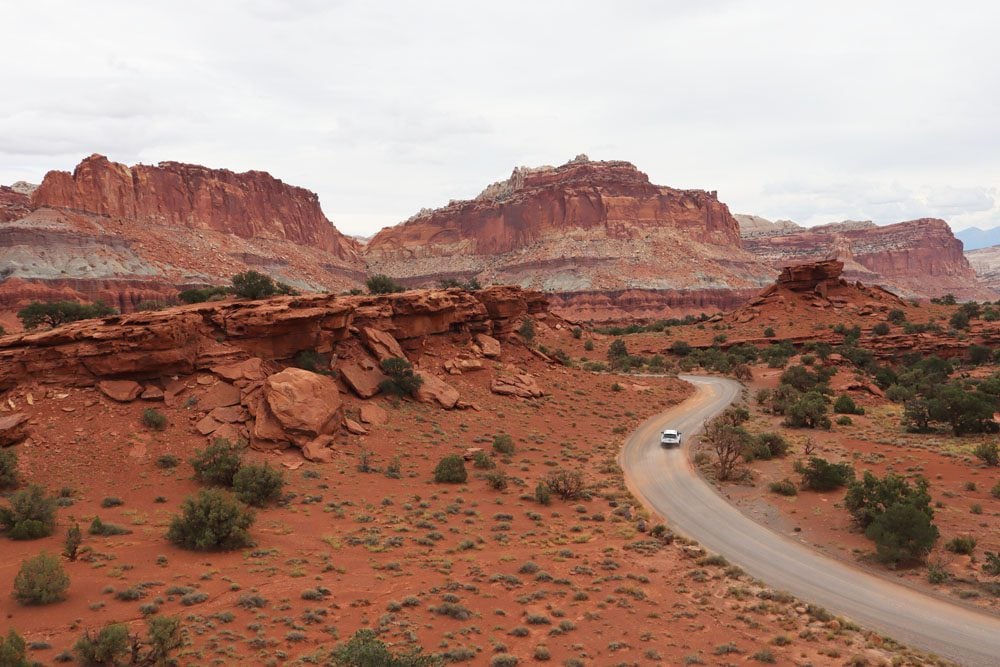 To reach Goosenecks Overlook, take the dirt road from Panorama Point and pick up the short walking path to the overlook. From the viewing area, see how Sulphur Creek continues to shape the landscape. The rock layer that you see just above the creek is over 280 million years old.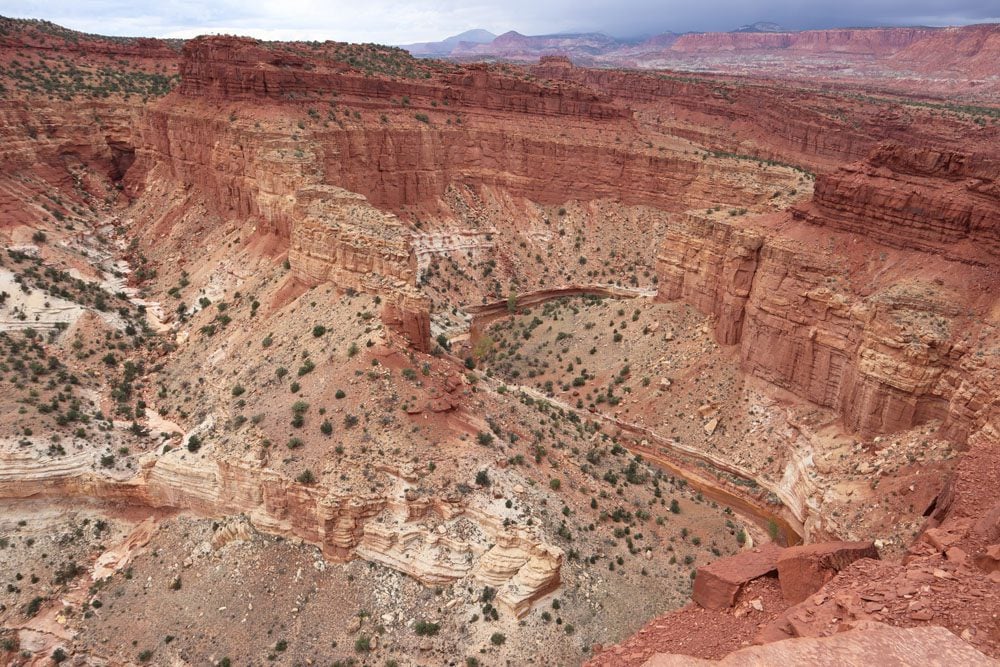 The Fluted Wall
Keep your eyes peeled for this easy-to-miss roadside stop (also known as "The Castle"). The ripples of the Fluted Wall are beautiful and reveal countless layers of sediment stacked in chronological order.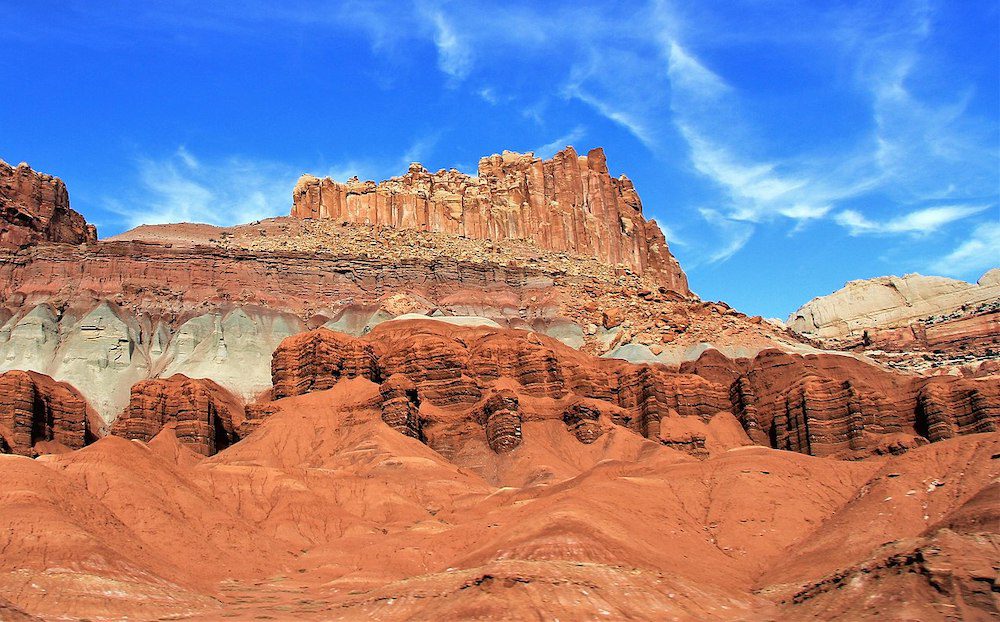 Capitol Reef Visitor Center
In the "outskirts" of Fruita, stop at the Capitol Reef Visitor Center if you have any questions or contemplate an extended stay in the national park instead of rushing it to Moab.
Fruita
Historic Fruita is Capitol Reef's most famous and scenic settlement. The village was founded by Mormon settlers in 1878, who used freshwater from the Fremont River to set up orchards (that's how Fruita got its name).
Fruita was abandoned in 1955 when the National Park Service took over, but the orchards and a few historic buildings still stand, most notably the old one-room Fruita schoolhouse. Slightly before the schoolhouse, exit the highway and explore the grounds of the Fruita Campground on foot. Stop at the Gifford Homestead to learn about the area's history and sample some pie.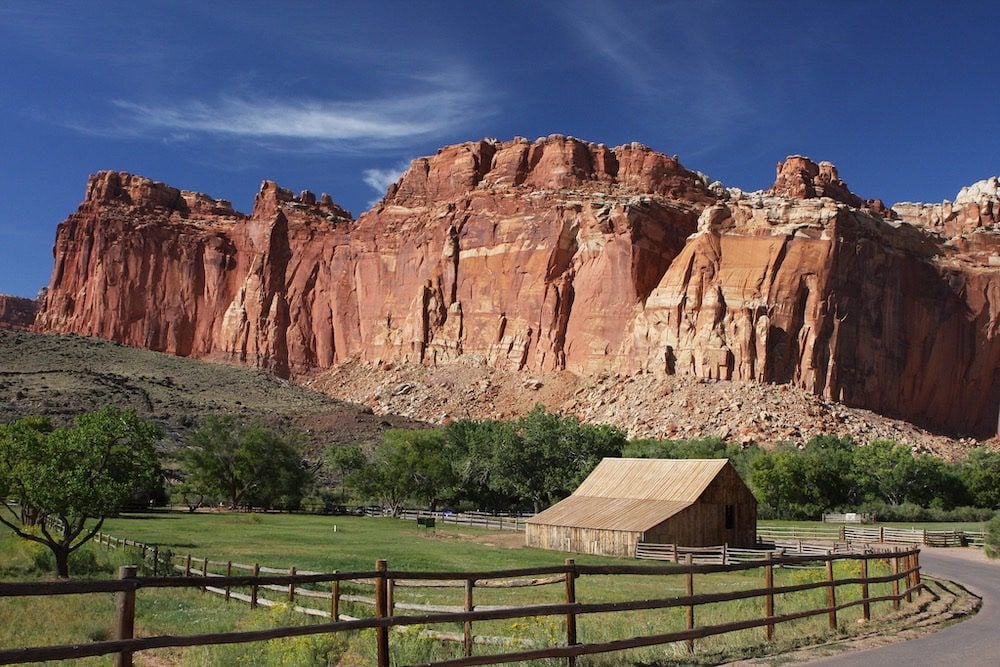 The Fruita Scenic Drive
Before heading back to Highway 24, take this lovely (paved) detour that stretches for about eight miles parallel to multi-colored pinnacles. Even though there is no fee for entering Capitol Reef (this might change in the future), a steep $20 fee must be paid to drive the scenic road. Here's a good description of highlights along the drive.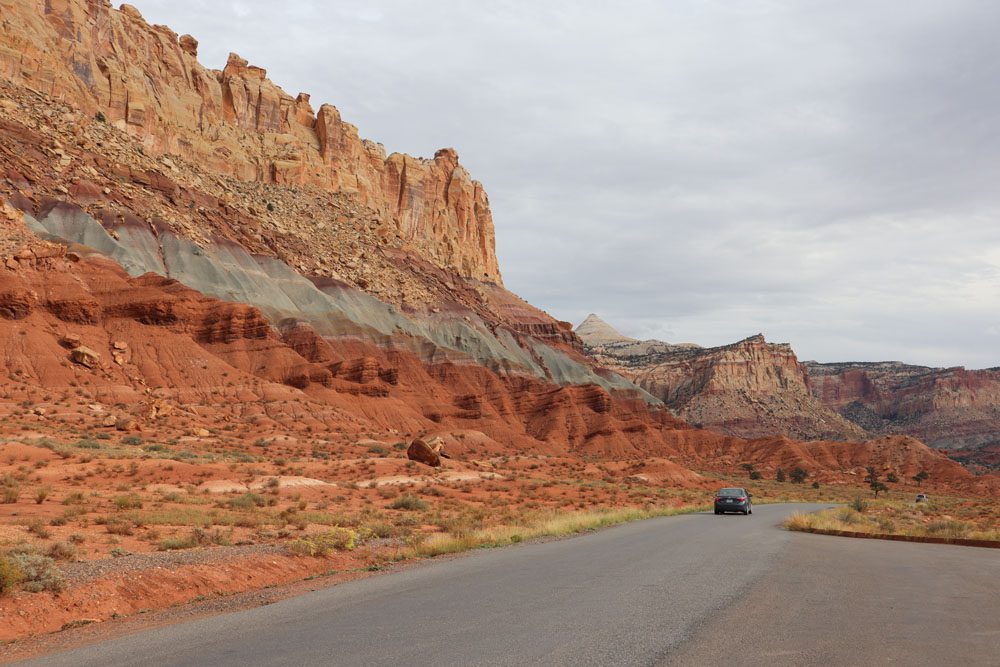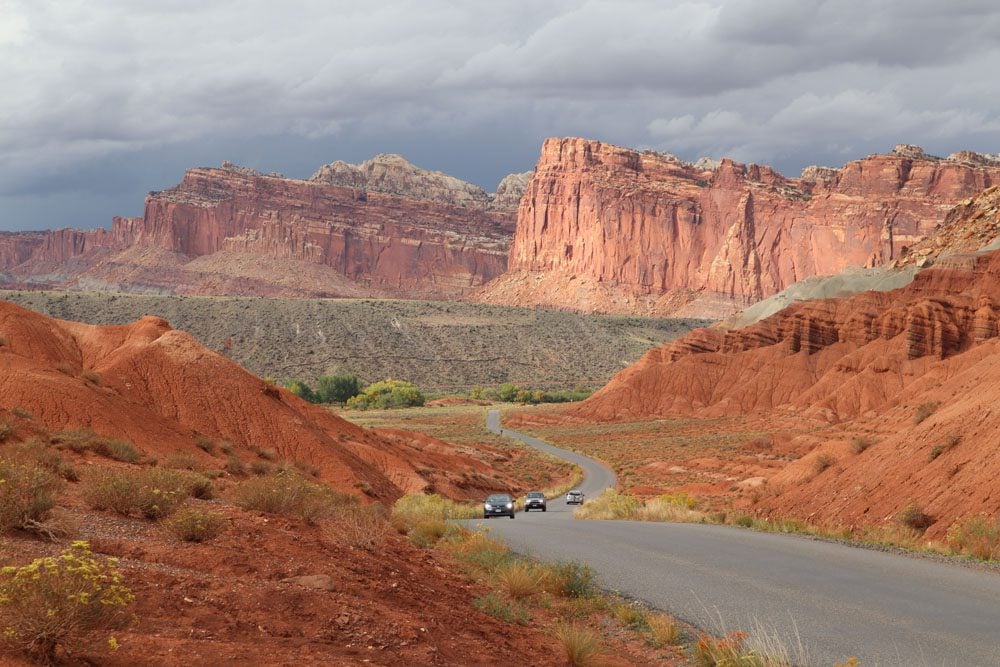 Native American Petroglyphs
Back on Highway 24 and shortly after the historic Fruita schoolhouse, pull over to see these striking Native American Petroglyphs. Pick up the wooden boardwalk from the parking area and walk along its smooth base. The petroglyphs are works by a mysterious tribe that lived in this area between 300-1300 CE. Some petroglyphs are a few meters above the cliff's base, making you wonder how exactly they got up there to paint with such precision?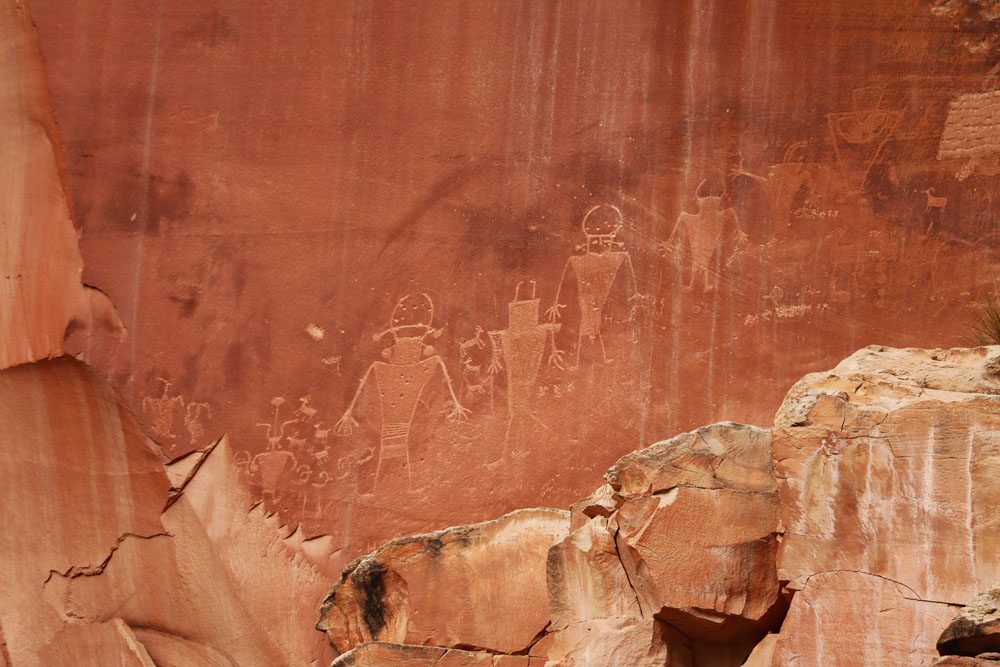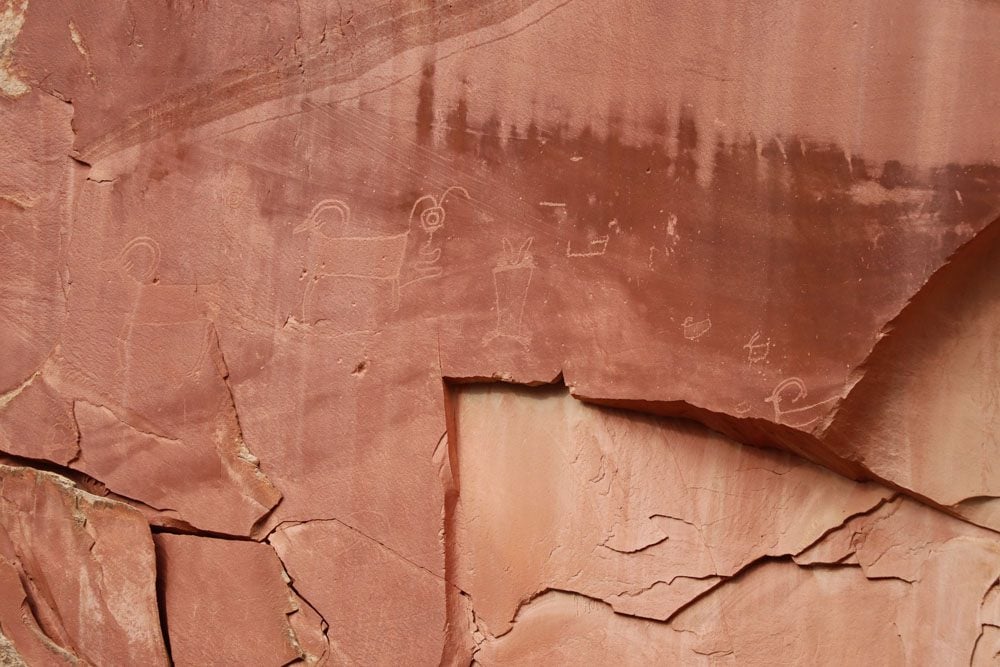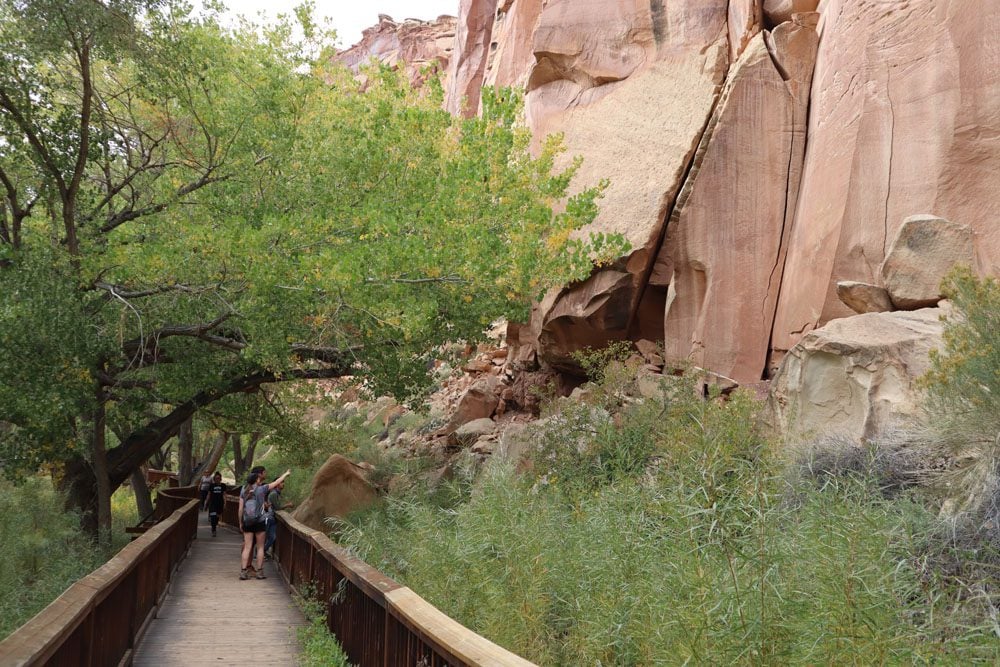 Hickman Bridge Trail
Pick up the trail to Hickman Bridge a few minutes down the road beyond the petroglyphs. This short trail begins with a quick ascent and eventually leads to the 133-foot natural arch. The hike can be extended on a detour to Hickman Bridge Overlook and even further to Rim Overlook.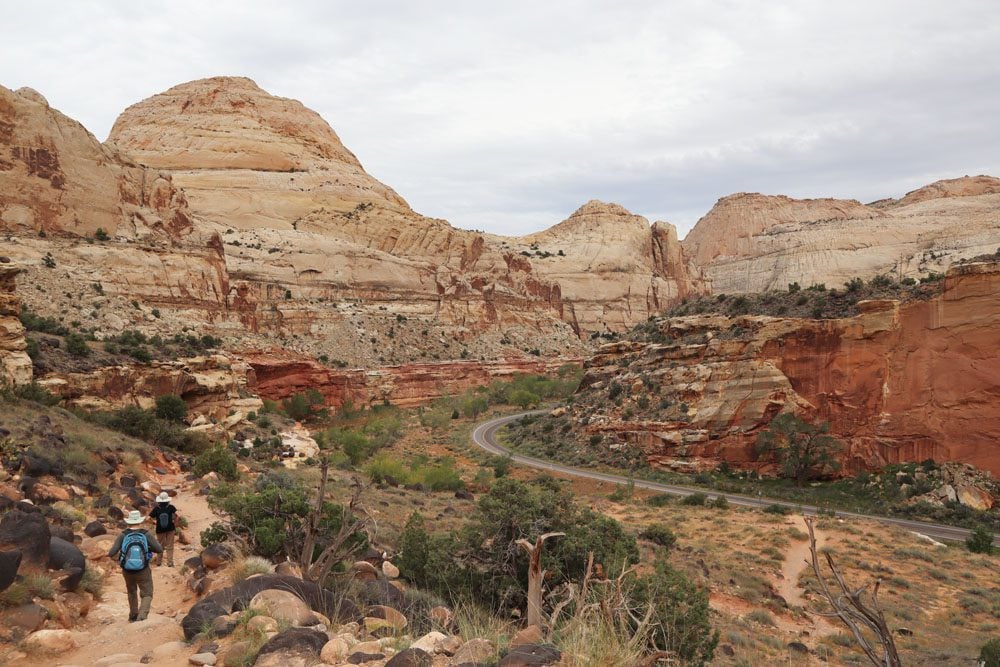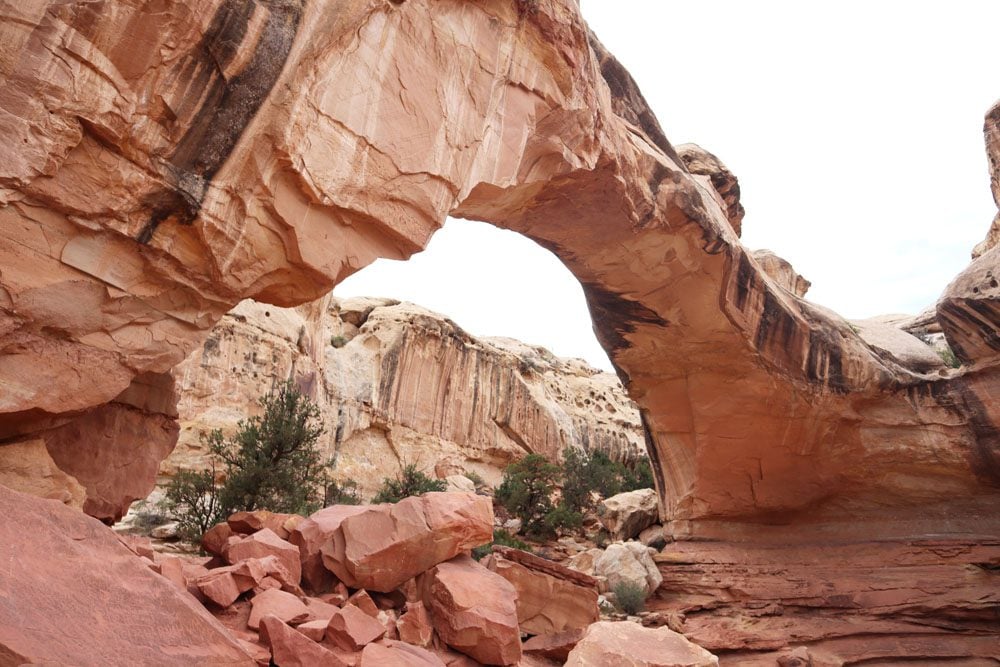 Grand Wash Trail
If you want to leave natural arches to Arches National Park, consider hiking the Grand Wash Trail further down the road. This easy trail can be combined with the Cassidy Arch Trail for a slightly longer adventure.
Behunin Cabin
This historical site lies near the park's boundary on Highway 24. The tiny cabin is the product of one of the early Mormon settlers and once housed 15 family members!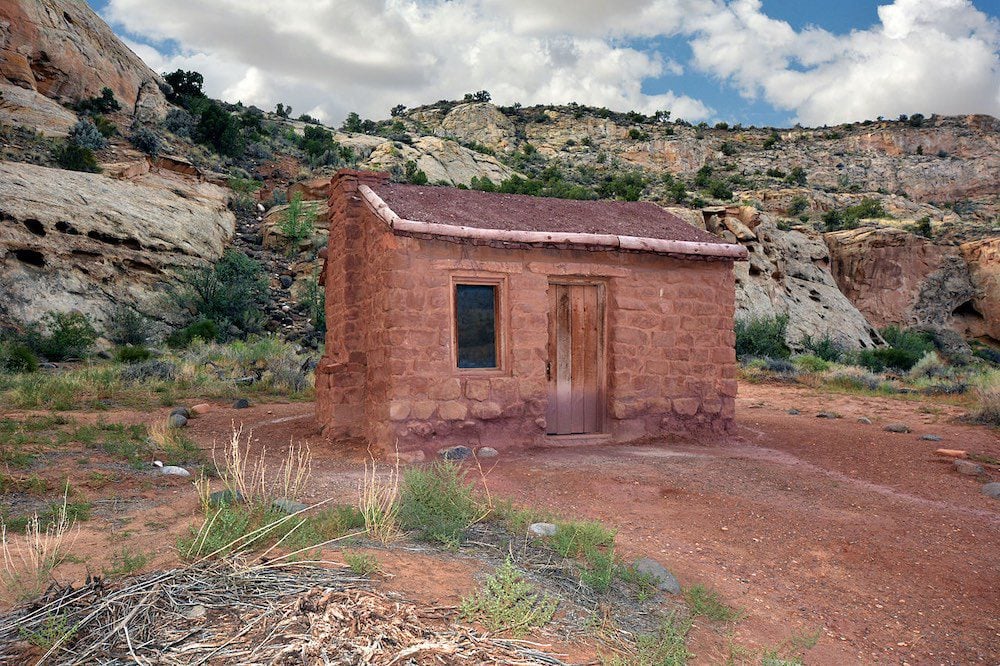 Caineville to Interstate 70
There aren't any must-see sites on the final stretch of the drive from Bryce Canyon to Arches National Park, but it is nonetheless memorable. After all, a scenic byway is a road that's so unique that it's an experience of its own. Beyond the national park boundary, Highway 24 passes through a few forgotten farming villages that make you wonder what residents do when they need some milk?
Beyond Hanksville, Highway 24 is straight as an arrow as far as the eye can see. The scenic byway eventually ends at Interstate 70, which continues the scenic theme of this road trip despite the re-emergence of eighteen-wheelers. Take I-70 beyond the Green River to US 191 and continue to Arches National. You'll likely overnight in Moab, with its neon signs, motels galore, and steakhouses.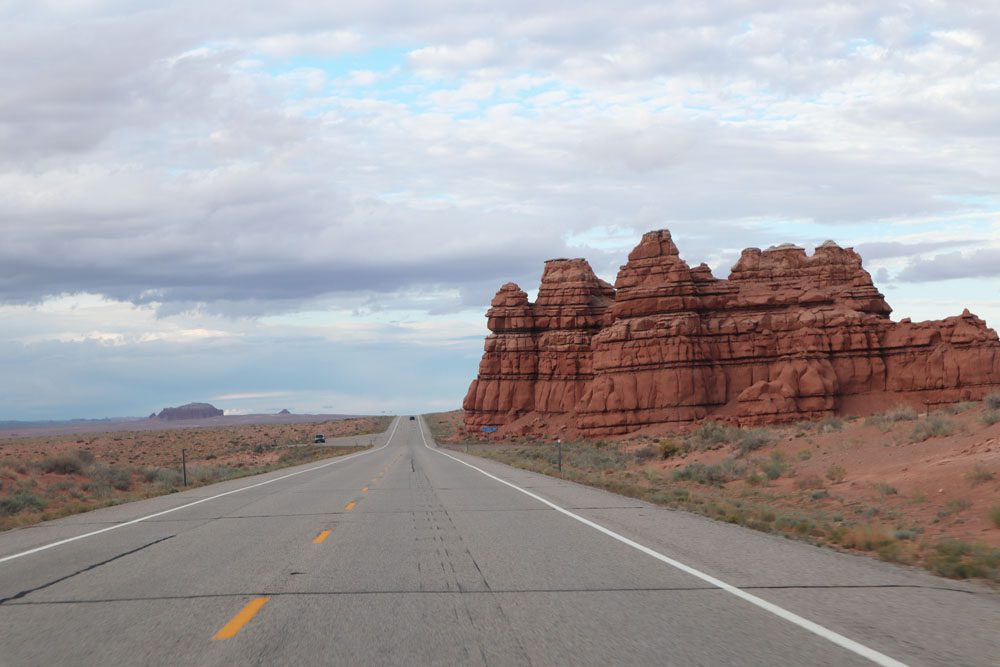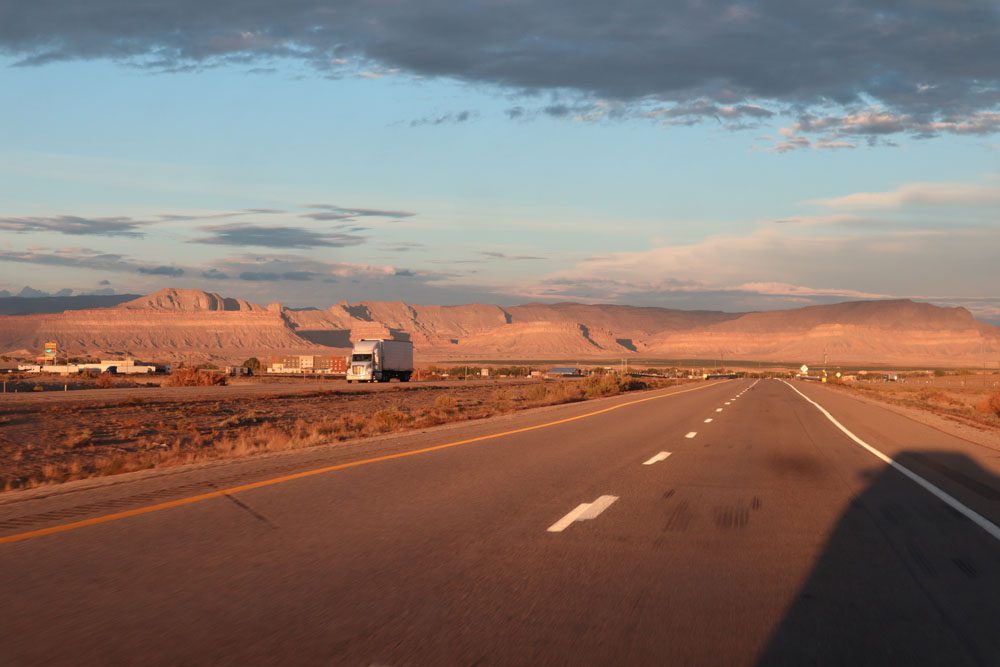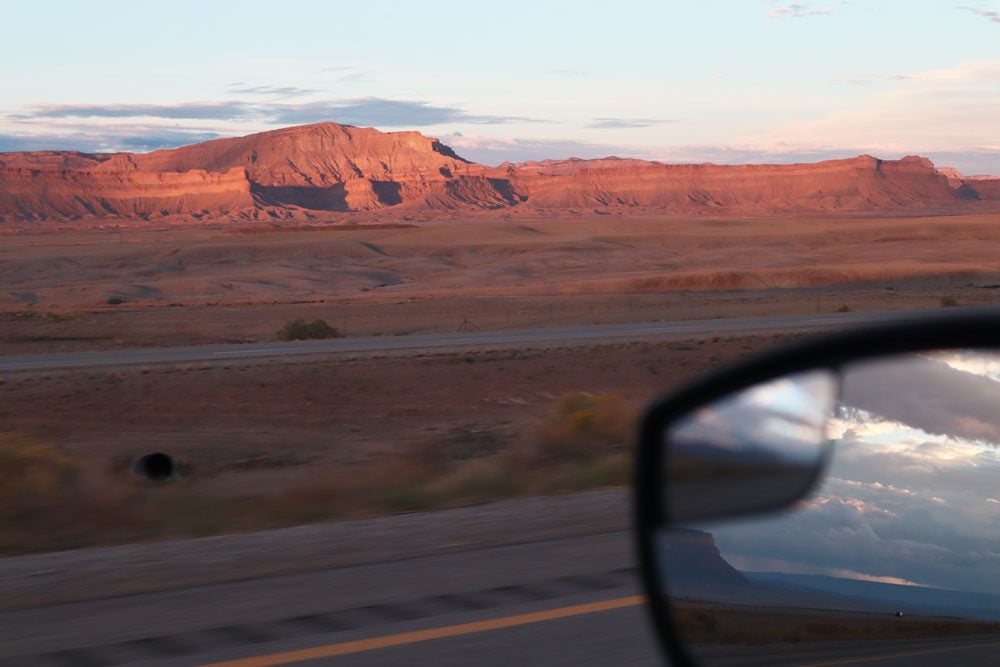 What's Next?
It's been a long but memorable scenic drive from Bryce Canyon to Arches National Park. If you left Bryce Canyon early enough in the day, this itinerary is doable during the longer summer days. Be sure to check additional travel guides to Southern Utah, including travel guides and itineraries to Utah's "Mighty Five".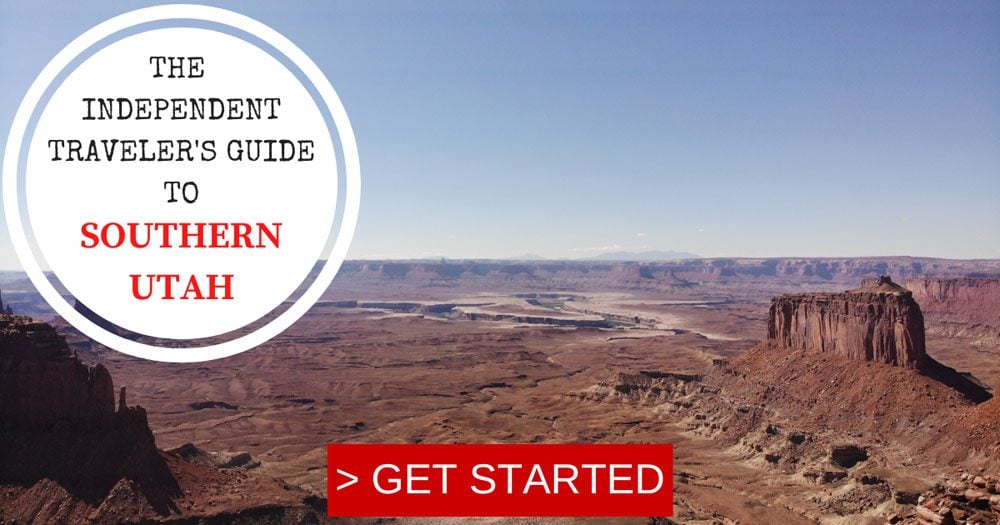 ---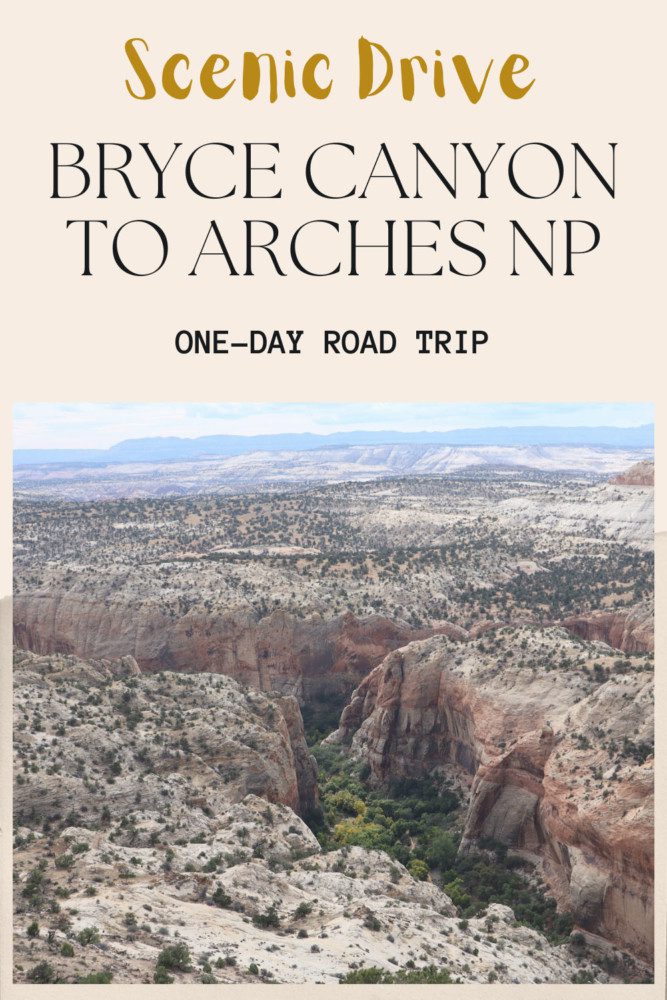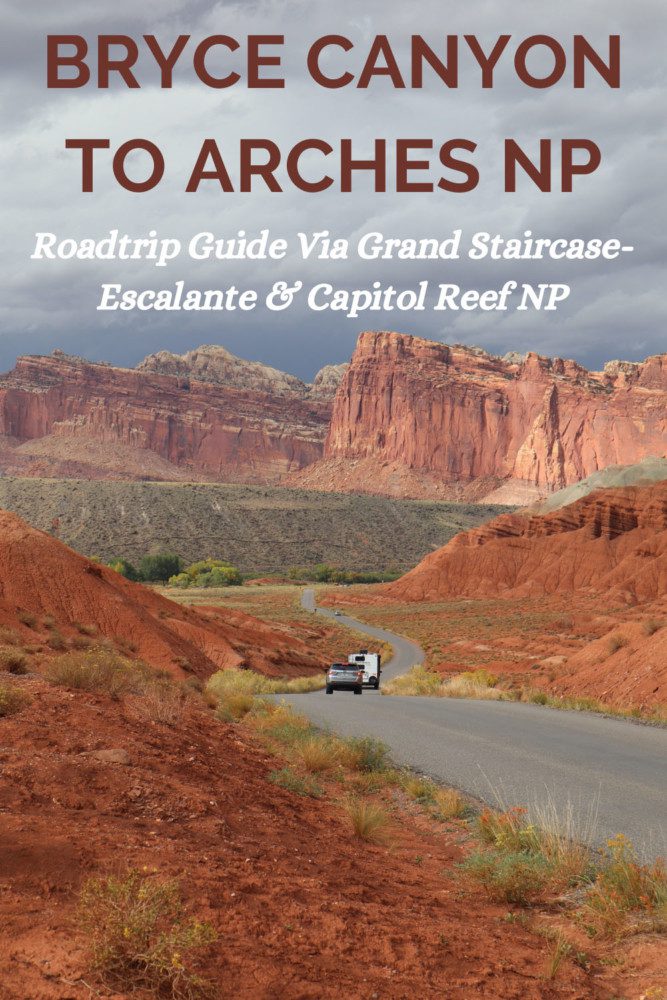 Pin These Images To Your Favorite Boards